You are here

Our Difference
Our Difference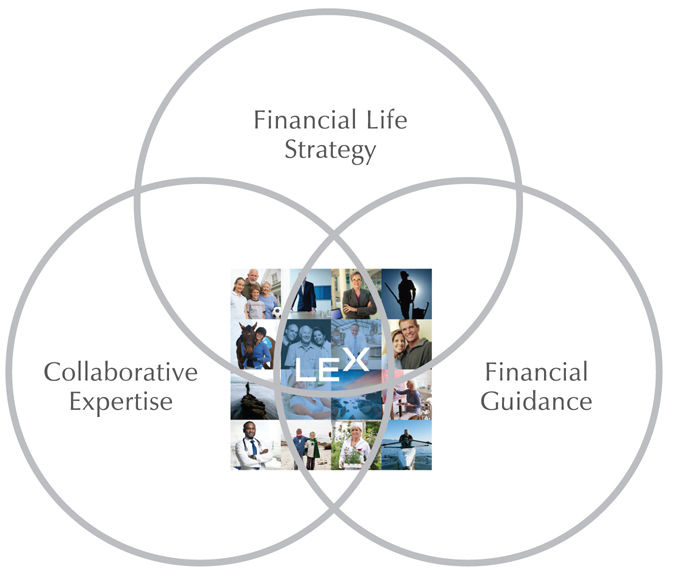 What makes us different is the depth of passion and commitment we have to truly serve business owners and families in a world of change.
Financial Life Management is critical because life events trigger action and in today's complex and continuously changing world, 'life events' happen more frequently and are more challenging for many reasons.
Lexington Financial/Life Management is passionate about the long-term success of our clients. It's why we do what we do, the way we do it. To us, a successful business is more than just financial strength; it is about providing the richness of life for the business owner, his family, and employees. Financial stability and growth are important, but focusing solely on the bottom line misses the mark and is not adequate for most people today. With the increasing pace and pressures of today, people have redefined success to include meaning and purpose. They want to live richer more rewarding lives.
Lexington helps business owners live 'The Exponential Life' -- it is the richness of life that includes financial strength, deep relationships, purpose, and the fingerprints we leave behind.
Our role as a fiduciary is one that we take very seriously at Lexington. We operate as an independent consulting firm with no broker dealer affiliation and do not offer proprietary funds. Our collaborative model involves the insight and review of a team of independent experts who contribute their own ideas and add to the discussions regarding the development and implementation of client strategies. This provides a wealth of valuable input as well as an added layer of analysis. We endeavor to hold the client's interests above all other considerations. We embrace our fiduciary responsibility and the opportunity to earn the trust our clients demand.
Risk-Based/Opportunity-Capturing Strategic Planning
Change has always been the cornerstone of reality, but with today's technological advancements and global interdependence, it is absolutely critical to educate and inform business owners about the serious threats that are present today and others that loom on the horizon. Most business owners are unaware of this clear and present danger, or choose not to acknowledge this reality. Many are in denial, believing that they are somehow immune to the potential devastation or are content with a strategy of hope. The risks associated with continuous change are growing and will continue to grow. This is not a trend, it is the fundamental truth of the new financial reality.
Challenge and Opportunity
With change comes opportunity for those who are prepared to not only survive, but grow through the process of change. Lexington Financial/Life Management understands and anticipates risks and works with business owners to proactively address issues to minimize disruption and take advantage of opportunity. Lexington Financial/Life Management designs strategies which embrace change, working with business owners to create a new mindset and understanding of their holistic Financial Life Ecosystem.
Living in Exponential Times
This is the Exponential Age – brought about by the rapid advance of technology which has reshaped our world and changed the game. In the past, technological revolutions were characterized by bursts of innovation followed by periods of relative stability, but today, change is constant and disruptive. Business owners have to rethink how they run their business in this environment and plan for continuous change and increasing complexity.
Lexington Financial/Life Management - Strategies For Exponential Life™
"The New Imperative"... Building Sustainable Success in an Age of Exponential Change.
The financial foundation of most successful business owners is their business. The income from the enterprise fuels their lifestyle and funds their investments. However, many business owners view their business financial life and their personal financial life as separate, when in fact they are inextricably linked. Lexington Financial/Life Management focuses on how these two 'lives' work together to provide the financial fuel to propel both forward on the journey. Lexington Financial/Life Management creates strategic and financial synergy for long-term growth.
Capturing Opportunity
Building from a risk-based/potential-creating position, Lexington Financial/Life Management creates the foundation for capturing opportunity. Every change creates an opportunity. As technology advances, new ways to serve customers are introduced, new methods of manufacturing are adopted, and products are launched to meet new customer demands. Successful businesses today must be in touch with shifting markets, changing technology, and customer needs. The risk is to fall behind, become obsolete, or undesired. The opportunity is to be nimble, innovative, loved by customers, and to enjoy sustainable success.
Capturing opportunity begins with a new mindset. With the proper mindset, the business is able to connect deeply with its employees and customers to play its role in the business/life ecosystem. Thriving businesses have a vision for the future and deliver value that aligns with employee and customer life objectives. Lexington assists business owners in building ideas and opportunities that create a win/win/win situations for the business, employees, and customers.